Description

VC's Message Shaheed Mohtarma Benazir Bhutto Medical University Larkana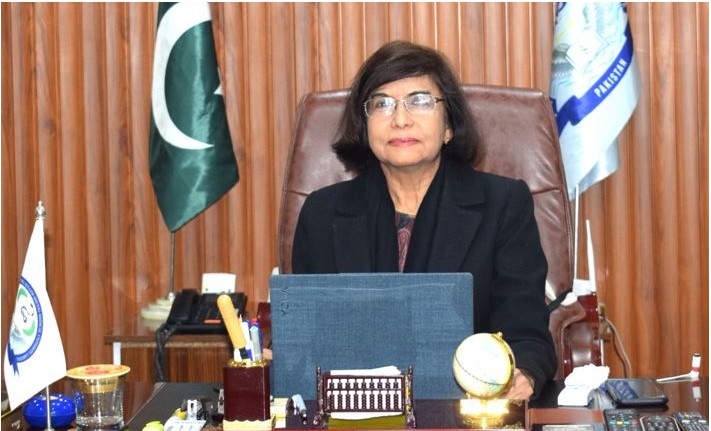 Prof. Dr. Aneela Atta ur Rahman
With the constant and determined efforts of the Administration, Faculty and Students, Shaheed Mohtarma Benazir Bhutto Medical University Larkana is progressing towards academic excellence, research consciousness and infrastructure strengthening with the eventual goal of providing an ideal educational atmosphere to our students, researchers and Scholars.
I have been honored to lead the prestigious University, SMBB Medical University Larkana as a Vice Chancellor. Owing to my prolong association with Chandka Medical College Larkana and this University, I have strong ambitions and compassion to escalate the educational standard of University at par with the best Medical Universities of the world for which earnest efforts would be undertaken.
The University is envisaged to provide quality education and specialized clinical services to the general public. Patients from Larkana and its nearby Districts, far apart cities of Balochistan and few Districts of Punjab are being provided treatment facility in the attached Teaching Hospitals of this University, whereby highly skilled/ qualified Teaching Faculty members offer Consultant level services.
There are following Constituent Colleges:
Chandka Medical College, Larkana
Ghulam Muhammad Mahar Medical College, Sukkur
Bibi Aseefa Dental College, Larkana.
Benazir Institute of Nursing & Community Health Sciences, Larkana
Institute of Pharmacy
Chandka Medical College, one of the Constituent Colleges of this University is serving since 1973 and has produced thousands of Doctors, who are serving at the renowned Institutions and health care organizations of Pakistan and abroad.
Ghulam Muhammad Mahar Medical College, Sukkur was established in the year 2003. It provides 100 admissions per year. It's geographical position links Sindh with Southern Punjab. New campus of the College is under construction which includes 1200 bedded Teaching Hospital.
Bibi Aseefa Dental College, Larkana was established in 2011. The College provides dental health care in following sub-Specialties:
Dental Material, Community Dentistry, Oral Biology, Oral Pathology, Oral Medicine, Periodontology, Oral and Maxillofacial Surgery, Operative Dentistry, Prosthodontics and Orthodontics. There is daily OPD of 150 to 200 patients, previously Dental care services were not available in Larkana so the patients were reffered to Karachi and Hyderabad.
Benazir Institute of Nursing & Community Health Sciences Larkana was established in the year 2011. It started functioning in the building of Chandka Medical College Larkana, however its separate building and Hostel is established at the new campus of University at Arija and the College has started functioning at the new setup. The major purpose of this Institute is to produce quality nurses. The Institute is recognized by Pakistan Nursing Council Islamabad.
Institute of Pharmacy has been established under the umbrella of SMBBMU Larkana. The Pharmacy Council of Pakistan has already recognized the Institute for 60 admissions per year. This Institute will fulfill the need of Pharmacists in the locality.
Today, SMBBMU Larkana is ranked amongst the prominent Universities of Sindh. The University provides education in the Faculties of Medicine, Surgery, Basic Sciences, Dentistry and Community Health Sciences. The Degree Programs offered are MBBS, BDS, B.S Nursing, Doctor of Pharmacy and number of Post Graduate Degrees and Diploma accredited by College of Physicians and Surgeons of Pakistan, Pakistan Medical & Dental Council, Islamabad and Higher Education Commission.
This University is recognized as a premier seat of learning and research. As per annual ranking of Higher Education Commission of Pakistan, the SMBBMU achieved remarkable position amongst all the Medical Universities of Pakistan.
For quality Teaching, the University provides outstanding facilities to the students. The students have access to high qualified Faculty, modern labs, air-conditioned libraries equipped with number of Books and Journals. Other facilities includes Stadium, Gymnasium and recreational facilities. The students and Faculty is provided access to large number of ebooks, online Journals etc through HEC digital library.